Accredited Organizations
Accredited areas of Alberta are overseen by the municipalities, corporations, and agencies that the Council authorizes to administer the Safety Codes Act (Act) in their jurisdiction. Each organization has a unique scope that defines the type and delivery of safety codes services they are authorized to provide.

Accreditation types have generally remained stable over the last five years. In 2020, the Accreditation department reviewed inactive agencies (those that had not filed an Annual Internal Review or paid fees) and discontinued accreditation for those that no longer wished to remain active, which accounts for the larger drop in agency numbers this year.
Alberta Safety Codes Authority (ASCA)
In some areas of the province, there is no municipality or corporation that has been accredited. In these areas, ASCA, a division of the Council, oversees delivery of safety codes services on behalf of the Minister. ASCA enters into agreements with accredited agencies to provide frontline services.
In 2020, ASCA oversaw 8,186 permits issued in unaccredited areas of Alberta, a 5.5% increase from 2019.

Permits and Inspections
The Council tracks the permitting and inspection activities of 253 organizations.
In 2020, the inspection-to-permit ratio was 2.4:1.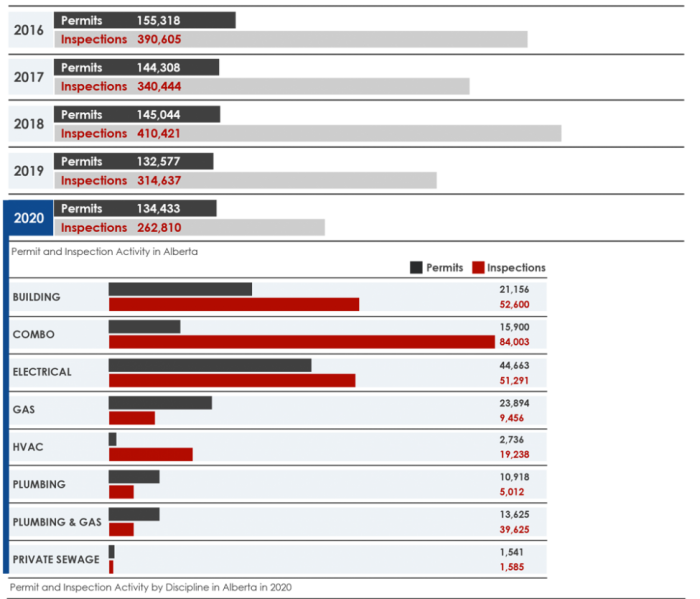 Orders
A safety codes officer issues an order when permitted work is found to violate legislated safety rules or when the SCO otherwise determines that the work could result in damage to a person or property. The Council maintains a registry for orders. In 2020, 318 orders were entered into the registry, slightly higher than 2019's 286 orders.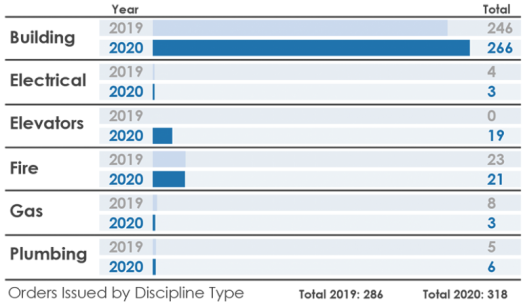 Variances
Occasionally, a proposed alternative to a code requirement provides equal or greater safety than what is written in the code or standard. In those cases, an SCO may issue a variance. The Council maintains a registry for variances. In 2020, 357 variances were entered into the registry, significantly less than 2019's 919 variances. This drop in variances registered with the Council may be attributed to fewer permits being issued.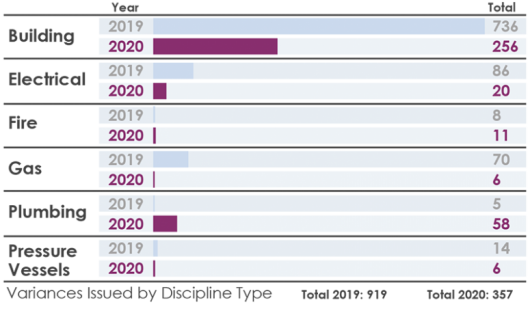 Certification
Safety codes officers are certified by the Council in any of nine disciplines. The Council is also responsible for certifying Master Electricians (ME), the only professionals who can obtain electrical permits in Alberta.
SCOs are authorized to work for a specific accredited organization under a designation of powers.
SCOs cannot carry out their responsibilities under the Act without a designation of powers.
In 2020, there were 2,837 certified SCOs. Of those, 1,876 held a designation of powers for one or more accredited organizations, a slight increase from the previous year. At the end of 2020, there were 4,391 MEs.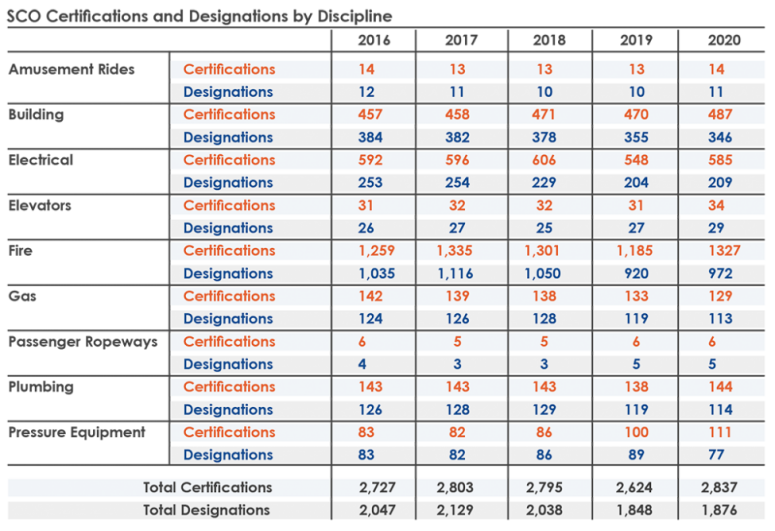 Training
The Council tracks registrations for the base and technical competency courses that SCOs must complete in order to obtain certification as well as code update training delivered by the Council.
The number of course registrations have decreased as compared to last year (25% decrease in total registrations). Part of the decrease in registrations can be attributed to COVID-19: lack of professional development funds, general financial caution, and cancellations of in-person offerings of courses. The Council has also been shifting away from Code Updates courses, replacing them with external offerings. In addition, the increase in building course registrations seen in 2016, caused by the new certification matrix and temporary course discounts, is leveling off. Similarly, in 2018 a new fire certification matrix caused an increase in registrations, which is now leveling off.

Audits
The Council ensures that accredited organizations are appropriately administering the Act in their jurisdiction in part through comprehensive audits, which are carried out on a regular basis. In 2020, the Council performed 45 total audits (including 5 joint accreditations) representing 63 municipalities.
Due to COVID-19, the audit team pivoted to developing a remote audit process, resulting in 28
remote audits.
As of Dec 31st, 38 audit reports have been mailed out.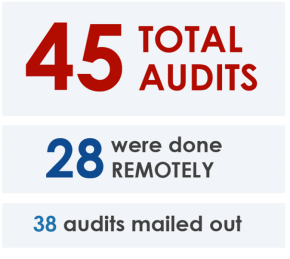 Investigations
If there are complaints or concerns about the conduct, performance, and/or competency of accredited organizations, SCOs, permit issuers, or MEs, the Council investigates them. Complaint investigations are independent and objective and provide the System with an additional tool for oversight.
The Complaints Investigations department additionally handles general enquiries from members of the public, providing an accessible contact point to help individuals navigate the safety codes system.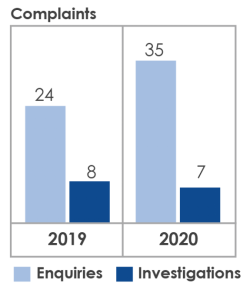 Appeals
If an individual or organization wishes to contest an order issued by a safety codes officer or a written notice issued under the Act, they can appeal. The Council administers an appeal process that is run according to the principles of natural justice and is fair, objective, and accessible.
In 2020, the Council received 5 Notices of Appeal. Of those, 3 were later withdrawn. In addition, one notice was received late in Q4, with the hearing being planned for 2021.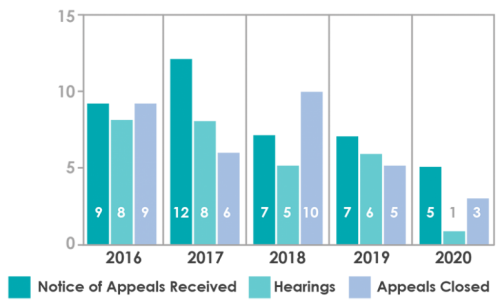 Annual Client Survey
For the past five years, the Council has used a third party survey contractor to survey SCOs and QMP representatives regarding their experiences and perceptions of the Council. Satisfaction scores have continued to improve from 2018 onwards and perceived value scores have improved from 2019.