Report From Our Sub-Councils: Q2 2022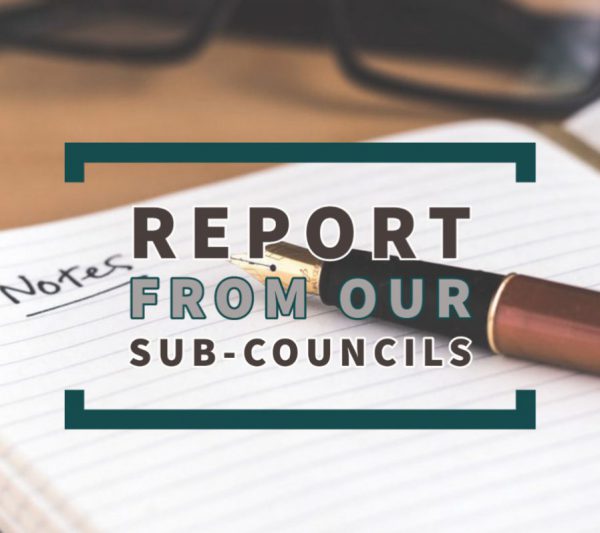 Our sub-councils continue to discuss the issues of importance to Alberta's safety codes system. Here's the Sub-Council Report for Q2, 2022.
Barrier Free Sub-Council
Worked on various potential code change issues that will be brought forward to the Building Sub-Council including door closers, assistive listening devices, operating controls, and accessible parking stalls.
Building Sub-Council
Reviewed the proposed single family dwelling definition from the Gas Sub-Council, whose members will participate in the working group to further discuss this topic.
Moved to support issuance of the ULC S1001 Integrated Systems Testing Forms STANDATA Bulletin.
Electrical Sub-Council
Supported amending the Section 2 STANDATA to indicate that decorative lighting systems (such as permanent in-soffit Christmas lights) need to be certified and permitted when permanently installed to a structure.
Moved to support three STANDATA:
21-ECB-002 Section 2 – General Rules.
21-ECB-010 Section 10 – Ground and Bonding.
Section 4 – Conductors.
Moved to amend the scope of the Low Voltage Lighting working group to explore low and extra low voltage lighting systems in Classes 1 and 2, and the approval and permitting thereof, as well as how a consumer can report issues on this topic.
Moved to create a working group to develop a proposed variance STANDATA that would allow an alternative to CE code rules regarding energy storage systems based on changes identified in CSA public review.
Moved to make the noted changes and submit the colour coding code change proposal to CSA by the Electrical Sub-Council.
Electrical Utilities Sub-Council
Approved amendments to the Alberta Electrical Utility Code.
Discussed a request from BILD Alberta to provide feedback about how imminent the need is for 200 amp services for residences.
Began review of items that may be incorporated into the next edition of the Alberta Electrical Utility Code.
Elevators Sub-Council
The Impacts of Not Adopting CSA B44 Section 8.11.1.1-8.11.1.2 working group reviewed the code and discussed confusion around it. The working group will meet with the Administrator to discuss further and work on a recommendation.
The Elevator and Escalator Safety working group continued its discussions.
Fire Sub-Council
The Insurance member gave a presentation on emerging technologies and questions that may arise regarding remote fire watch systems.
The Large Farm Structures working group reported that its comments along with comments from the industry engagement sessions would be compiled into a What We Heard document that will ultimately be sent to the Minister.
Gas Sub-Council
Moved to recommend that the Building Administrator include information regarding access to appliances from CSA B149.1 in the 19-BCV-019 Interior Stairways for Roof Access to HVAC Equipment STANDATA.
Discussion continued on the single family dwelling definition with the issues going to the building, plumbing, and electrical sub-councils for further input.
Passenger Ropeways Sub-Council
A presentation was given by the Passenger Ropeways Technical Expert on Electric Drive Upgrades.
Moved to recommend to the Board several changes to its matrix to better represent the diversity of types of equipment used by passenger ropeways operators.
Plumbing Sub-Council
Permit regulation review continued with specific discussion around the single family dwelling definition, permit exemption for water service and sewer installation, and removal of exemption for water treatment devices.
Begun review of all plumbing STANDATA to ensure they are in alignment with the new National Plumbing Code 2020.
Pressure Equipment Sub-Council
Moved to recommend that the power engineer's regulation does not apply to an unfired boiler when the owner has specified an alternative competency verification process with an approved PEIMS, and that definitions for unfired boiler and PEIMS be introduced to support the exemption.
Started discussion of sub-council strategic alignment and planning with presentations from: Council staff on the Council mandate and role; ABSA on Alberta's pressure equipment safety system; and Municipal Affairs on understanding government policy.
Moved to create a working group to investigate CSA N285, a code regarding pressure-retaining systems in nuclear facilities, and the potential for its adoption in Alberta.
Private Sewage Sub-Council
Moved to recommend the removal of the Academia seat from the Private Sewage Sub-Council matrix.
Moved to create a working group to review the combined treatment and disposal systems documents to determine if they meet the intent of the Private Sewage Disposal Systems Standard of Practice.
Discussed complex systems, soil logs, ASCA's permit application checklist, the permit regulation, and priority items for possible inclusion in the next edition of the Private Sewage Disposal Systems Standard of Practice.