Ross Wilson Appointed Chief Financial Officer and VP, Corporate Services and Enterprise Performance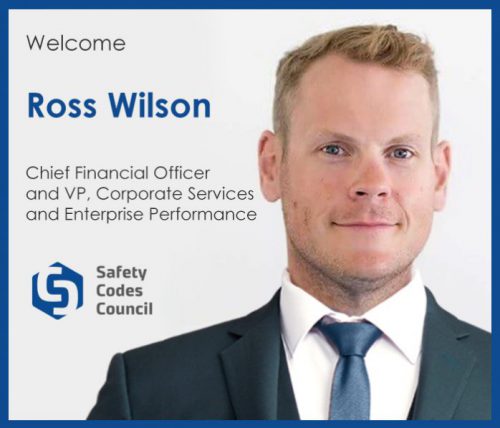 For release – Edmonton, June 15, 2021
The Safety Codes Council (Council) is pleased to announce that Mr. Ross Wilson has been appointed Chief Financial Officer and Vice-President, Corporate Services and Enterprise Performance.
Mr. Wilson joins the Council with a wealth of multi-dimensional financial expertise from both the private and public sectors. Most recently, Mr. Wilson served as Director, Internal Audit at the Northern Alberta Institute of Technology where he led the development of a new internal audit function, implementing a continuous improvement practice to support the institute in achieving its strategic objectives.
"I am pleased to welcome Ross to the Council's executive team," says President and CEO Amina Deiab. "Ross's diverse skill set and deep experience in operational finance is an excellent fit for the Council as we continue to transform and innovate."
Mr. Wilson brings extensive risk management and corporate governance experience to the Council. Before joining NAIT, he held senior financial management roles with the Government of Alberta, Alberta Superintendent of Financial Institutions, ATB Financial, and EPCOR utilities. Notably, in his role with the Alberta Superintendent of Financial Institutions, he was part of the leadership team that completed the first comprehensive risk assessment of ATB Financial.
Mr. Wilson has also held several board leadership roles, including Chair, Audit Committee, PanGlobal Training Systems; Vice Chair, Athlete Council; and Audit Committee Member, Paralympic Foundation of Canada.
He is a Chartered Professional Accountant (CA), a Certified Fraud Examiner (CFE) and holds a Master of Business Administration, with a focus on leadership and teams, and a certificate in Corporate Social Responsibility from Queen's University. He also holds an undergraduate Bachelor of Commerce from the University of Alberta.
Mr. Wilson is an avid cyclist, competing regularly as a representative of Canada. He has won two silver medals at the Rio Paralympic Games, two world championships, and is slated to compete at the Tokyo Paralympic Games in 2021.