Safety Codes Council Appoints New President and Chief Executive Officer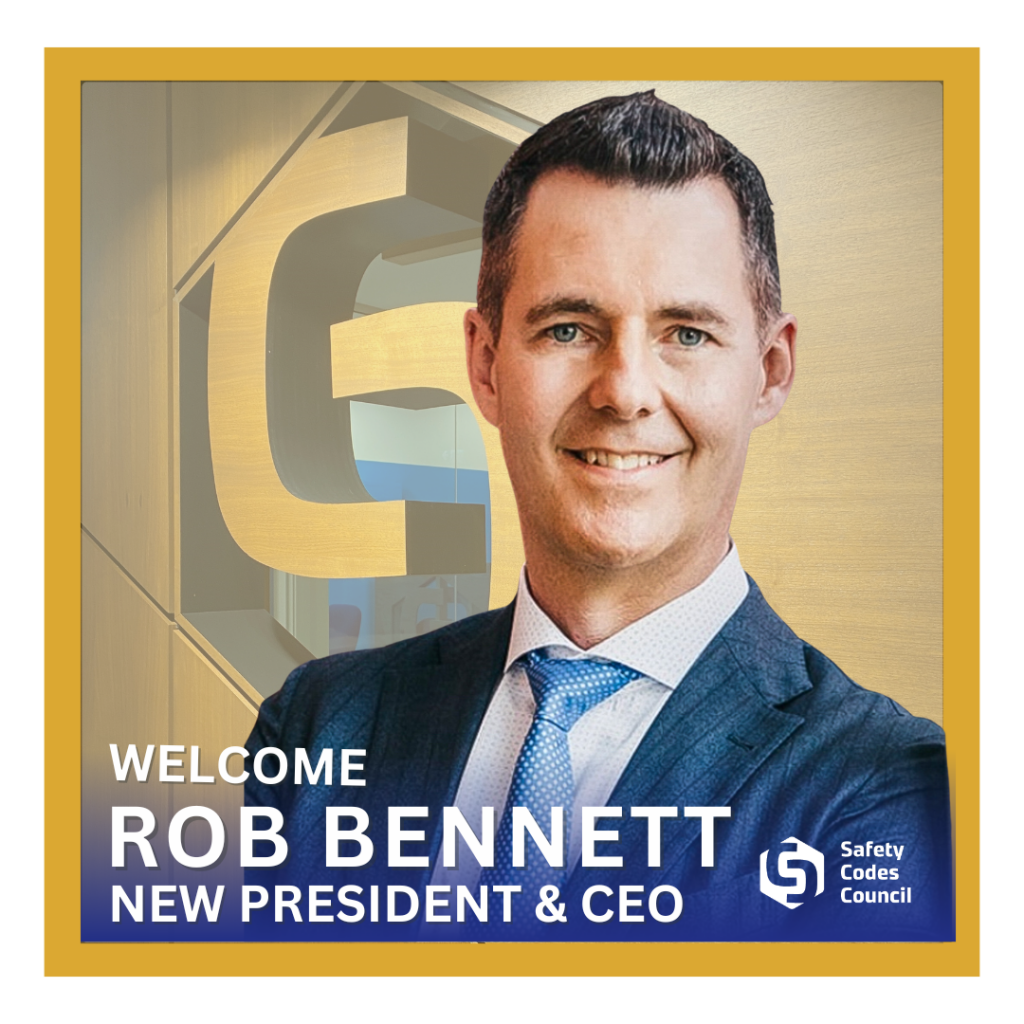 The Safety Codes Council (the Council) is pleased to announce the appointment of Mr. Rob Bennett as its new President and Chief Executive Officer (CEO), effective August 14, 2023. Mr. Bennett is an accomplished strategic executive leader with experience leading large distributed networks, digital transformation, product management, operations, and process improvement for businesses in regulated industries, while collaborating with regulators and key stakeholders.
"We are confident that Rob's strengths will complement Council's executive leadership team", says Ms. Jill Matthew, Chair of the Safety Codes Council Board of Directors. "We are committed to the Council's Strategic Plan and appreciate the hard-working dedication of Council's employees and the strength of Council's partnerships with stakeholders and Municipal Affairs to provide an effective and sustainable safety codes system for structures, facilities and equipment.
We thank Katie Rowe for her superb leadership as acting President and CEO during this transition."
As the new CEO of the Council, Mr. Bennett will be responsible for providing strategic direction and overseeing all aspects of the organization's operations. Prior to joining the Council, Mr. Bennett had a very successful career in the banking and financial services industries. He retired as Executive Vice President at ATB Financial in 2020 where he had a significant role in building ATB's culture and successfully ideated and created ATB Financials' Private Banking Division. Since then, he has acted as the Chief Executive Officer of Kepler Academy during which time he led a turnaround and scaling of the company. Recently, Rob led the launch of a SaaS digital marketing and philanthropic platform in the US market.
"Stepping into the role of President and CEO of the Safety Codes Council is both an honour and an important responsibility," said Mr. Rob Bennett. "It's important that Council continue to be a great place to work as the team plays a critical role in making sure Alberta remains safe while competitive and attractive to business leaders and investors. I'm committed to fostering a culture of safety, innovation, and collaboration. Together with our dedicated team and stakeholders, we will strive to create safer environments for all Albertans, making our communities stronger and more resilient."
Rob holds a Bachelor of Arts degree with a major in Law from the Faculty of Public Affairs at Carleton University, and a Masters of Business Administration from Queen's University Smith School of Business where he remains Class President.