Safety Codes Council Summit 2023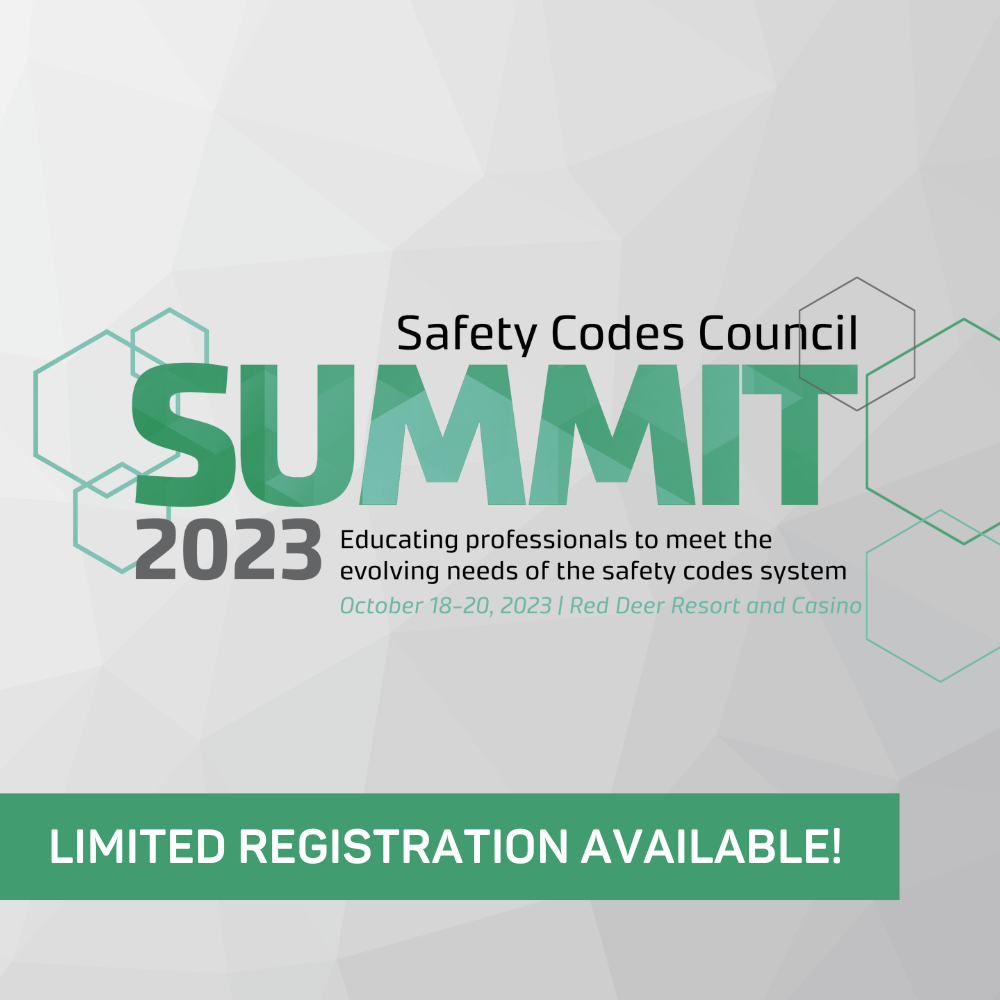 The Safety Codes Council Summit 2023 is just around the corner, and we are excited to have industry experts gathering in Red Deer, Alberta! We have presenters coming from across the province to share topics that are trending in Alberta's built environment. Attend discipline specific sessions while gaining insight into the direction of the Safety Codes System.
Building Focused Sessions
AMA Building Technical Session, Paul Chang
Smooth Moving for all Ages and Abilities, Robert Lipka
Encapsulated Mass Timber: a new construction type for the 2020 NBC, Noah Fetterly
Energy Efficiency and Beyond: Changes to the 9.36 and the increasing importance of Energy Advisors, Tyler Hermanson
Modular Housing, Bryce Nugent
Universal Design Workshop, Robert Lipka
CSA Standards A277, Z250 and Z252 for Prefabricated Buildings and Modular High-Rise Construction, Khaled Habib
What Authentication to Look For, and What's in a Name? Alan Ng and Andy Smith
Fire Focused Sessions
AMA Fire Technical Session, Tina Parker and Cindy Yan
Fire Investigator Scene Safety, Scott Hanelt
CAN/ULC-S561:2020, Justin Mansbridge
Mass Timber Demonstration Fire Test Project: An Overview, Marc Alam
Electrical Focused Session
AMA Electrical Technical Session, Kevin Glubrecht and Gregg Marshall
Residential Energy Storage Systems Based on the 2021 CE Code, Steve Douglas
Lightning Protection as a Building Safety System, Simon Larter
The Future of Solar and Storage, Ed Knaggs
Plumbing and Gas Focused Sessions
AMA Gas & Plumbing Technical Session, Sidney Manning and Perry Wager
ATCO's Hydrogen Project, ATCO
Applying Hydronic Heating Regulations, Dave Hughes
CSA B149.3 Field Approval: An Industrial Contractors Perspective, Justin Trupp
General Sessions
Administrative Penalty Program, Municipal Affairs
Curriculum Modernization, Safety Codes Council
Orders and Variances, Safety Codes Council
Limited spots are still available. To register or to learn more about the Summit visit conference.safetycodes.ab.ca.
Those who have registered will be receiving more information soon.
We look forward to seeing you all October 18-20, 2023!